Slot Zuylen, Netherlands
The elegant shape of the crinkle crankle walls is reflected in the water
Famous crinkle crankle walls around Bramfield Hall
Walpole Road, Bramfield Hall, Suffolk

Crinkle crankle means something that bends and turns; the term dates back to 1598. It is used nowadays to describe walls. There are as many as 50 crinkle crankle walls in East Anglia, which were built by Dutch engineers in the seventeenth century after draining the Fens. The design of the walls was economical, as the wavy shape obviated the need for buttresses and only one width of bricks was needed.
Crinkle crankle walls soon caught on here and were built as boundary walls; they were also found to be good for kitchen gardens as fruit trees were sheltered within the curves and aligned to face the sun.
Killiow Kitchen Garden Walls from the exterior
Cornwall has perhaps the only one example of these walls, in the old kitchen garden of Killiow House in Kea. It is close to the club house at Killiow golf course where both house and gardens show few signs of activity. (A ski slope and caravan park are rumoured to be coming to the extensive grounds). The crinkle crankle walls are listed, fortunately. Oddly they have buttresses. During World War II, in the run-up to the Normandy landings, the Americans are said to have practiced some light artillery in the garden, as there are small pock marks and some iron stuck in the walls. The golf course is good and so are meals in the clubhouse, where a generous buffet lunch is available from chef Andrew Hicks. The puddings on offer are reportedly delicious. Killiow House was the former home of Annie Penrose, after whom the Spitfire was named.
The University of Virginia, founded by Thomas Jefferson, has many crinkle crankle walls thanks to him. He liked them both for their beauty and low cost.
English Heritage has a list of crinkle crankle walls in the UK. It is odd that this ancient practical style of wall is not seen more nowadays.
Double Gate Farm, Bushley, Hertfordshire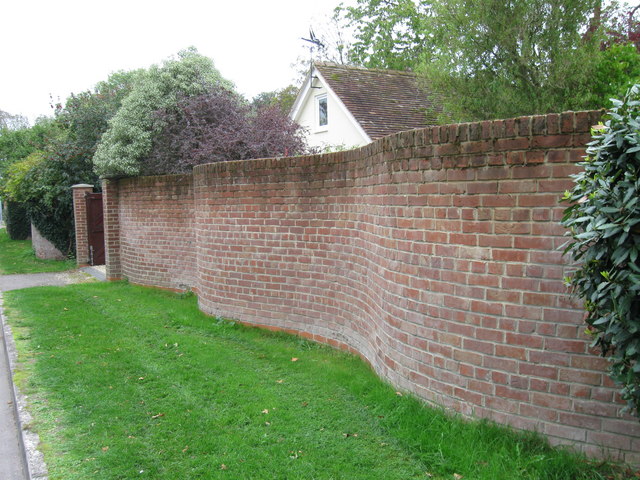 Kemsing Churchyard, Kent,
Slangemuur Beeckestijn. Slangemuur is Dutch for Snaking Wall
Many fine walls can be seen in Holland,
and seem to be in a better condition than ours.
Holland: Sparrendaal Slingermuur Driebergen-Rijsenburg
Holland: Hof te Bergen. Rijksmonument
Crinkle crankle walls immediately call to mind
the serpentine shape of the Great Wall of China
For great wall walks, go to http://www.rambulation.com/2013/02/the-worlds-greatest-wall-walks-best-in.html
Geograph has a good selection of photographs.
Some crinkle crankle walls in the UK
Winterbourne Botanic Garden, Birmingham
Compton Bishop
Easton
Snettisham House, Kings Lynn, Norfolk
Purleigh Hall Barn, Maldon, Essex
The Old Rectory, Hinderclay,Suffolk
Dean's Court, Wimborne, Dorset
Threave Gardens, Scotland
Roundham Head near Paignton, Torbay
Ruskin College, Oxford