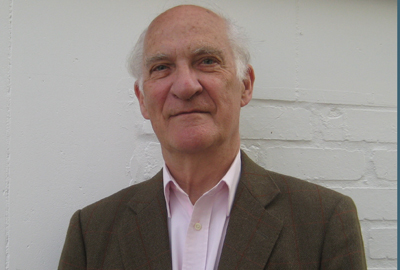 Emmaus UK founder and vice-president Selwyn Image will receive the prestigious
Albert Medal
awarded by the RSA (Royal Society for the encouragement of Arts, Manufactures and Commerce) tomorrow, Tuesday 22 October, at an awards ceremony in London.
The prize - which has been running since 1864 - is designed to recognise innovation in the fields of creativity, commerce and social improvement and has previously been awarded to Sir Tim Berners-Lee, inventor of the World Wide Web and renowned physicist Professor Stephen Hawking.
Selwyn will be awarded the prize in recognition of his efforts in founding Emmaus UK.
Born in Edgware, Middlesex in 1938, Selwyn lived all over London before spending some time in Hong Kong as a Chinese linguist for the RAF, completing his national service monitoring chatter in the Far East. He attended Cambridge University, where he studied languages. It was a need to improve his spoken French which took Selwyn to France, to Paris, where he worked the ragging shift with Emmaus workers, shifting coal from cellars, clearing houses and collecting all kinds of unwanted goods.
He returned to the UK and spent the next thirty years forging a successful career in international marketing. He travelled the globe with firms like Reckitt & Colman, McKenzie Unilever and Schering, living in cities from Chicago to Dusseldorf.
In 1989, Selwyn first noticed a significant rise in the number of homeless people on the streets of Cambridge. He set up a soup and sandwich shelter and started speaking to the people who came to use the service. He was told: "I want somewhere where I can work, where I feel I belong, and where I can recover my self-respect. What are you going to do about it?"
After this encounter that Selwyn travelled back to Paris and enlisted the help of Abbé Pierre, the Emmaus founder, and started the first Emmaus community in Cambridge.
"Winning this prize emphasises the RSA's recognition of the positive things Emmaus can do about the growing national issue of homelessness," said Image. "The most important benefit from winning such a prestigious award is that it enables us to grow our social enterprise throughout the UK, using the good name of the RSA to highlight our work"
Emmaus has since grown to 24 communities and more emerging groups across England, Wales and Scotland, which offer home and work to 590 formerly homeless people.
Emmaus Cambridge was the first Community to be established in the UK in 1990. Since then the Community has gone from strength to strength, becoming fully self supporting through the hard work of Companions, the name we give to those living in the Community, and staff. By collecting, refurbishing and selling furniture and other household goods no longer needed by their owners in our shop, the Community has been able to increase the original intake of Companions to 30 as well as directly supporting other local organisations helping homeless people and those affected by poverty, including Jimmy's Nightshelter and the Cambridge Foodbank.
Also, by offering goods at discounted rate to those in receipt of some state benefits, we aim to help those on the lowest incomes in society and by doing so, continue to fulfil the original aims of Abbé Pierre's vision: "To serve the most needy before ourselves".
Helping people help themselves
Emmaus is not an easy option - on joining the Community, Companions commit to volunteering 37.5 hours a week, sign off unemployment benefits such as Job Seeker's Allowance or Incapacity Benefit (although they may be asked to apply for Housing Benefit which is paid directly to the Community) and every one lives by the principle of helping others to live, grow and find dignity through sharing, work and self respect.