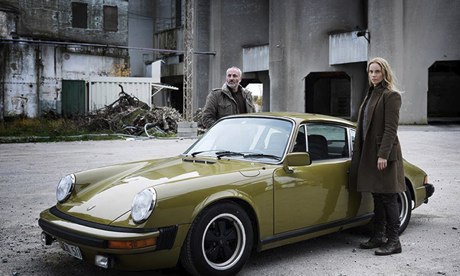 Sofia Helin as Saga Norén and
Kim Bodnia as Martin Rohde in

The Bridge.
Cars are much in the news, and BBC4 viewers of the gripping Swedish detective programme The Bridge are equating Saga's
1970s Porsche with detective Morse's famous old Jaguar.
Ford's new F-150 pick-up truck
The

Detroit motor show
2014 has just introduced the latest
Ford F-series pickup, which has been produced continually for the last 66 years and is one of the best-selling vehicles of all time
in the US.
. Like the winner of the What? Car of the Year 2014, the
Nissan Qashqai 1.5 dCi Acenta 2WD,
the latest Ford F-150 has a
360-degree camera which shows the car and its position from above.
Jato
's
latest figures for new cars sold in 2013 show that
Great Britain had the largest annual volume increase in Europe,
growing by 10.8%. The Volkswagen Golf was still the best-selling car in Europe last year.
What? Car of the year and Best Small SUV Award 2014
Nissan Qashqai 1.5 dCi Acenta 2WD
What
?
Car
has just named
the Nissan Qashqai
Car of the Year 2014 at the 37th annual What Car? Awards
at Grosvenor House, Park Lane, London W1.
It is the first time Nissan has won the coveted title.
What Car? editor Chas Hallett explained: "the Qashqai delivers low costs and first-class levels of comfort, refinement, space and safety.
Nissan has thought of every last detail, and this complete approach is why the Qashqai is What Car?'s Car of the Year.
The
Qashqai
is packed with technology including a state-of-the-art 360-degree camera and Intelligent Park Assist.
What? Car has the most wonderful photos of the winners: Hot Hatch or others could easily win a photography award.
Best City Car
Hyundai i10 1.0 65 SE
Price: £9,295
Best Small Car
Ford Fiesta 1.0T 100 Ecoboost Zetec 5dr
Price: £14,495
Best Family Car
Skoda Octavia 1.2 TSI SE
Price: £17,190
Best Coupé
BMW 435i M Sport auto
Price: £42,960
Volkswagen Golf Estate 1.6 TDI SE Bluemotion Tech
Price: £21,735
Citroën Grand C4 Picasso 1.6 e-HDi 115 Exclusive
Price: £23,255
Best Hot Hatch 2014
Ford Fiesta ST-2
Price: £17,995
Best Large SUV 2014
Range Rover Sport
Price: £59,995
Best Executive Car 2014
Audi A3 Saloon 2.0 TDi Sport
Price: £24,275
Best Sports Car
Price: £38,237
Mercedes-Benz S350 Bluetec L SE Line
Price: £65,650
Reader Award
Readers voted the Nissan X-Trail as the most exciting car
Price: To be confirmed