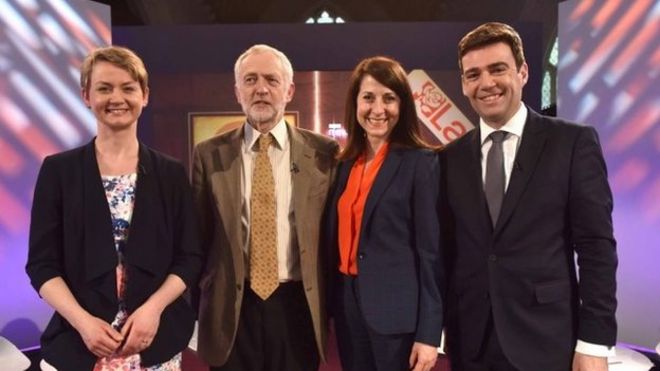 Contenders for the Labour leadership
Yvette Cooper, Jeremy Corbyn, Liz Kendall, Andy Burnham
Left-wing

Jeremy Corbyn

has unexpectedly become the 1/4 odds-on favourite for the Labour leadership, and this week Tony Blair made an emotional and over the top appeal in the Guardian to Labour supporters not to vote for him in the coming ballot:
"The party is walking eyes shut, arms outstretched, over the cliff's edge to the jagged rocks below….. If Jeremy Corbyn becomes leader it won't be a defeat like 1983 or 2015 at the next election. It will mean rout, possibly annihilation."
It is easy to see why Blair has such antipathy towards him: Corbyn
holds the record for bein
g the most rebellious of all Labour MPs and
was a constant thorn in Blair's side throughout his premiership
from 1997 to 2007.
Blair
holds the record for being
the most war-mongering prime minister in our history
and
Corbyn constantly opposed and
voted against British participation in
Iraq in 1998 and 2003, Kosovo in 1999, Sierra Leone in 2000 and Afghanistan in 2001.
He took part in many rallies against the Iraq War, and
has led the Stop the War coalition since 2001; he was one of only 12 Labour MPs demanding an inquiry into the invasion.
Andrew Roth, 1919-2010
The Bishopsgate Institute holds
the archives
of the late journalist and biographer Andrew Roth
which
Jenny Stevens
of the Independent has called "a treasure trove for political journalists and biographers." The Institute
has
ten pages
on Jeremy Corbyn
from
Roth's Parliamentary Profiles 2005 edition, and here is just a sample:
Jeremy Corbyn
"Outlook: Labour's leading serially-rebellious backbencher, the list of whose dissident votes is effectively synonymous with a tally of all the revolts against the Government; sometimes he rebels on his own; in the '97 to '01 Parliament he was top rebel with 64 deviant votes; a seagreen incorruptible, hyper-active, quasi-Trotskyist (LONDON LABOUR BRIEFING) hard-Leftist attempting only visually to mellow: has moved out of Oxfam-reject clothes into smart jackets, one burgundy;.....
ignoring Tony Blair's wish for an uncontested Shadow Cabinet, entered the ballot, receiving 37 votes July '96; backed Clare Short's attack on spin- doctors but preferred blaming "the direction in which Tony Blair is trying to take the party;".....
opposed Blair leadership's move toward centrally-approved register of potential candidates as a "pretty appalling vista" July '97";
Traits: Slight; bearded; "his bearded and flint-like features appear to have been carved from
rock, after the brutalist manner of early Socialist Realism; he never smiles" (Matthew Parris,
TIMES); he "may have a rollicking sense of humour, though I have never heard it in public"
(Simon Hoggart, GUARDIAN); "solemn, bearded and intense", "gaunt and stricken", "like
some Renaissance Crucifixion" (David McKie, GUARDIAN); "I started wearing a beard
when I was 19 and living in Jamaica; they called me `Mr Beardman'"(JC); in Jan '02 he won
the Beard Liberation Front's Beard-of-the-Year Award, beating Rolf Harris; "whilst most of
his chums have all moderated their views, dumped their corduroy jackets and grey suits,
shaved their beards, and quietly cancelled their CND subscriptions, [he] has hardly changed a
bit; he is the Fidel Castro of London N1" (Robert Hardman, DAILY TELEGRAPH); "Cor
bin-Laden" (Labour Whip's notation); bitter- tongued; manipulative; "he can be so nice, but
when he thinks he's right about something important, he becomes a different person" (Labour
MP-colleague); a "spray-on proletarian" (Edward Pearce, DAILY TELEGRAPH); formerly
"the nearest thing Parliament has to a Greenham Common man"; his new "red jacket...burns like a beacon" (Max Davidson, DAILY TELEGRAPH); "I dress in a comfortable and casual
style in which I feel best able to serve my constituents"; cyclist ("I have had the same bike
since I was 12"); vegetarian; formerly very close to Diane Abbott.
Ballot papers for the Labour leadership contest are currently in the post

to

party members, registered

and affiliated

supporters.

Voting can take place by post or online.
They must be returned by 10 September.
The result is on 12 September
Jeremy Corbyn 1/4

Andy Burnham 9/2

Yvette Cooper 9/1

Liz Kendall 100/1